CPP | Certified Procurement Professional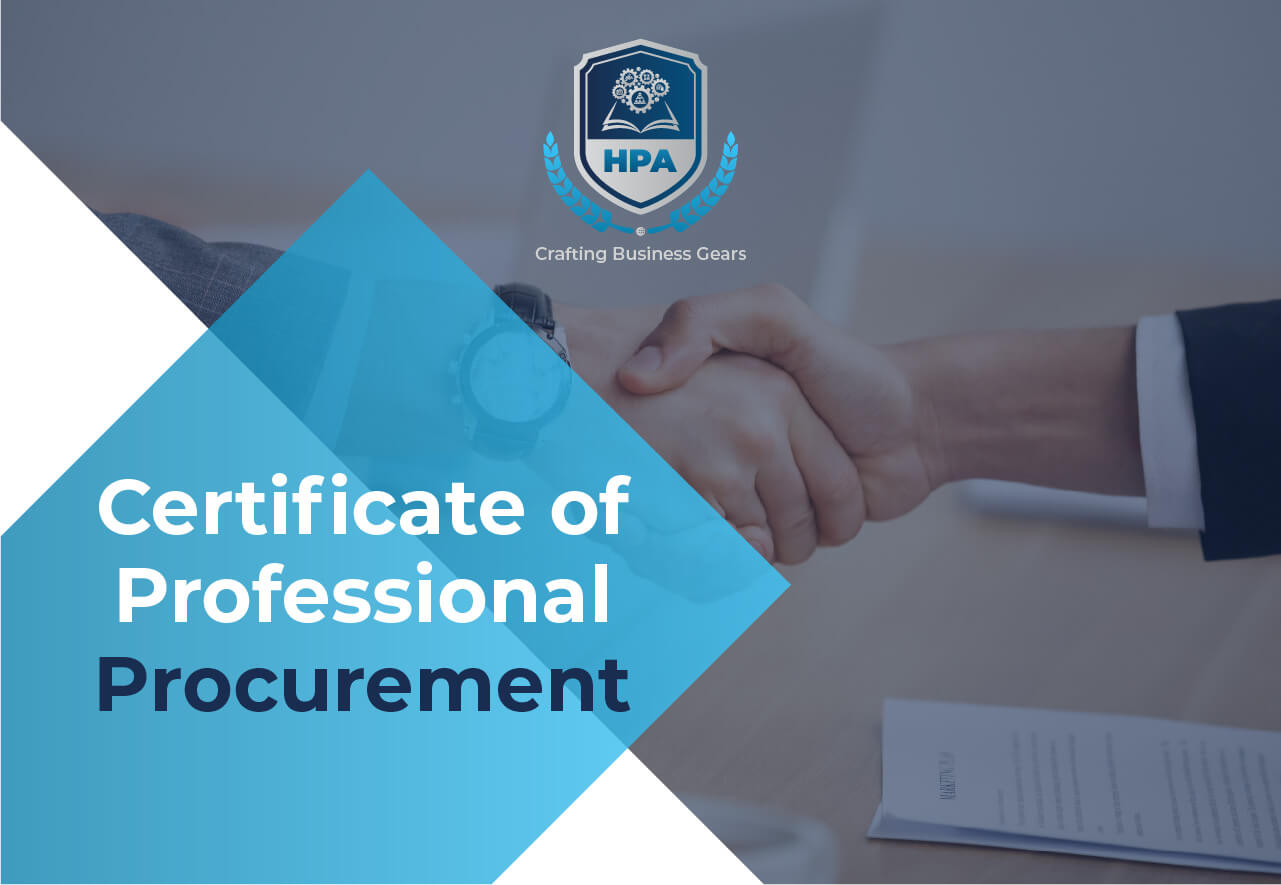 CPP | Certified Procurement Professional
What is CPP | Certified Procurement Professional?
Many departmental choices have procurement implications that can affect the overall cost of carrying out the decision, Certified Procurement Professional will guarantee an understanding of all the foundations and processes.
Cost in this context refers to the full cost of the good or service, not just the price that is paid. The strategic role of procurement is seen as enhancing the profitability of the company by streamlining operations, lowering the cost and price of raw materials, and locating more reliable sources of supply.
helping to lower the "bottom line" in essence. Indeed, many organizations post their head of procurement at the Executive Board level in order to acknowledge the significance of procurement.
Why CPP?
Certified Procurement Professional is designed to help you in developing your knowledge and skills related to procurement, such as understanding the procurement foundations, procurement processes, and the financial impact, Procurement is a critical function in many organizations, and having the right knowledge and skills can help you advance your career in procurement or related fields. By completing a procurement course, you can demonstrate your commitment to your profession and enhance your credentials.
1- Procurement Foundations:
• Relation between supply chain & procurement management
• Strategic Sourcing, Procurement & Purchasing
2-The financial impact of the procurement:
• Impact Of procurement in financial statements
• How to set a procurement budget
• Calculation of total cost of ownership
• Cost of the item and supplier's pricing, as estimated
• Case study
3- Procurement processes:
• Design a complete procurement process
• Ways of receiving procurement requisition.
• Developing an effective specification.
• Sourcing types and models.
• Strategic sourcing, SRM & tactical buying
• The main pre-qualifications of suppliers
• Processes for supplier quality assurance and certified suppliers
• Ways of supplier selection
• Supplier's negotiation techniques.
• distinct purchase order forums and contract kinds.
• Payment Terms and documentation
• Case study
4- Procurements Performance measurements:
• Suppliers' evaluation processes and Performance Metrics
• Key Performance Indicators (KPI) For Staff in Procurement
• Tools might be used in procurement procedures.
• Case study
By the completion CPP | Certified Procurement Professional, you will be able to:
Understand what is the procurement
Make informed decisions about what, when, and where to buy.
To find the best deals, research possible suppliers and build partnerships.
Assess the possibilities of suppliers to improve contract negotiations
Recognize supply management's principles and procedures.
Professionals and executives working in supply management.
Professionals looking for in-depth knowledge and understanding of procurement
Course Features
Lectures

0

Quizzes

0

Duration

24 hours

Skill level

All levels

Language

ENG/AR

Students

0

Assessments

Yes