People & Culture Diploma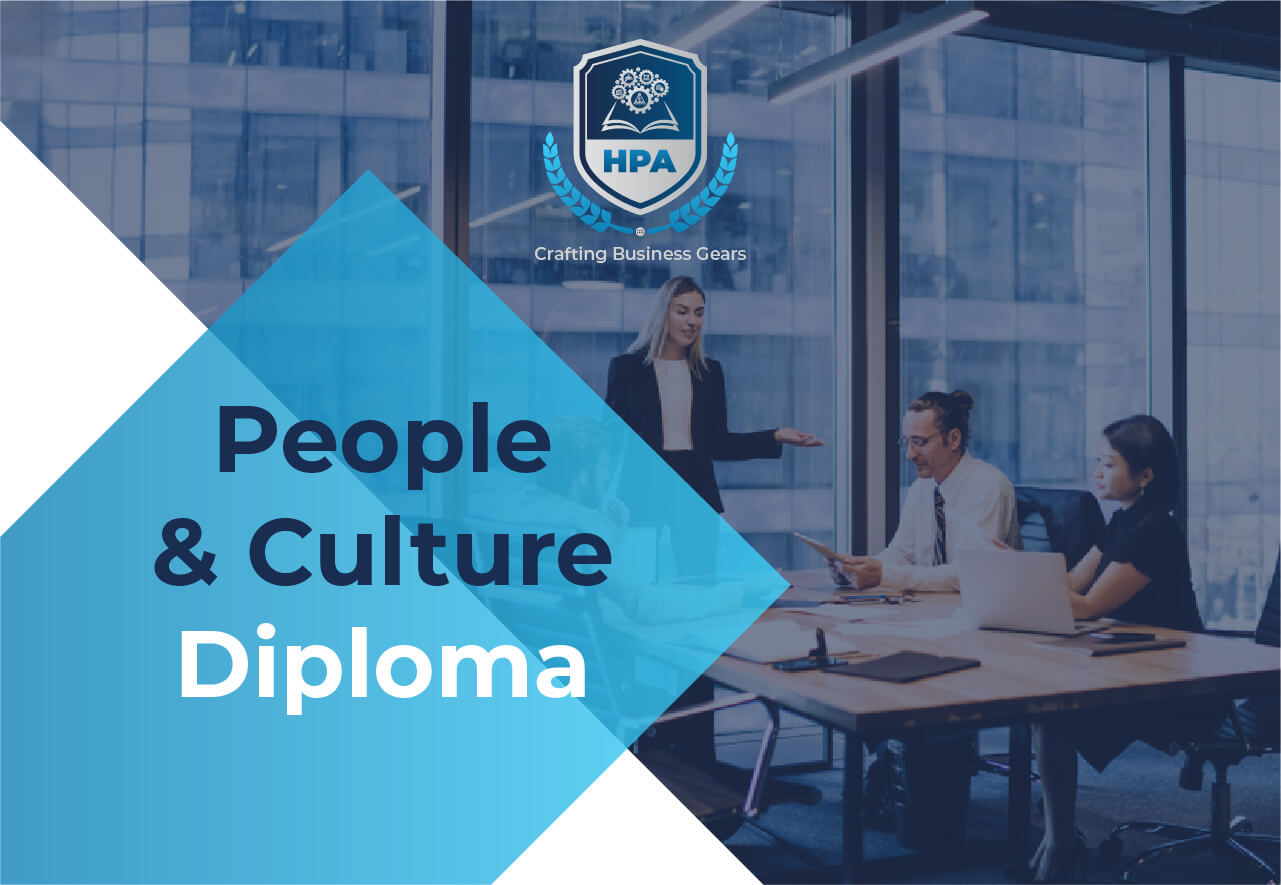 Company culture grows around shared beliefs and attitudes, it is an authentic, and therefore effective, tool in business. Culture should encompass existing qualities that have been recognized across all levels of the company and then tightly defined, rather than plucked out of thin air and enforced upon the business. If correctly cultivated, you can see some interesting benefits.
Enhanced Employee Engagement
Increased Communication Levels between Management, Employees, and Customers
Know what factors shape an organization's culture.
Considerations in creating and managing organizational culture.
Practices to ensure the continuity and success of an organization's culture.
Communications, metrics, technology, and issues pertaining to organizational culture.
HR data analysis program focus on the data side of human resource management. Using appropriate techniques and tools your department will be able to provide decision-makers with the insights to make better people decisions.
1- HR Metrics
The importance of analyzing HR activities
The role of data analysis in HR functions
Analyzing recruitment metrics
Analyzing employee relations metrics
Analyzing compensation & benefits metrics
Analyzing learning & development and performance management
2- Excel & Power BI
Introduction to Self-Service BI Solutions
Creating a Power BI Dashboard
Using Excel as a Data Source for Power BI
Shaping and Combining Data
Create Relationships & Calculations
Understand the importance of data and analytical process for driving decisions
Use Excel and Power BI to process, combine, clean and analyze HR data
Calculate appropriate measures – KPIs and ROIs on HR activities
Identify analytical tools & methods for interpreting, & presenting HR data & support HR decisions
Building Organization Culture (4 hours)
Why do some cultures thrive while others languish? And what role do leaders play in helping cultures thrive? Organizational cultures are living systems that can be intentionally influenced and developed through a system of interrelated elements.
In this program we prepare HR professionals to examine their beliefs and practices pertaining to organizational culture.
What is culture
Schein's Culture Framework
Culture Terms
Culture Terms application
Handy Typology of Culture
Organizational charts best practices
Developing Organization Cultures
Define culture and its impact.
Identify Schein's 3 levels of organizational culture.
Practice culture terms.
Identify the 4 types of cultures organizations can follow.
Succession Planning (4 hours)
Succession planning has a bias towards satisfying organization requirements. There is an assumption that failing to satisfy most requirements from internally developed personnel is unlikely to provide the optimally effective organization.
What is Succession Planning
Why is Succession Planning Important?
Succession Plan Process
Bench Strength strategy
Development grid
Understand succession planning concept.
Realize benefits of succession planning .
Apply process of Succession planning efficiently.
Build bench strength as part of succession planning.
Apply the Development grid to your organization
With 11 HR activities and 58 metrics used, the HR Reporting workshop will equip you with the necessary tools to be able to prepare the report according to the ISO 30414:2018 standard.
History and Development of ISO 30414
Human Capital Reporting Guidelines and Risk
Specific 11 Areas of Human Capital Reporting Listed in ISO 30414
How to measure the 58 HR Metrics related to the 11 areas listed in the ISO 30414
Having a hand-on experience in preparing HR Top Management Reports.
Measuring the 32 metrics for small to medium organizations and 58 metrics for large organizations.
Explain how to use the ISO 30414 standard as an HR audit tool.
Employee Engagement (20 hours)
Employee engagement and having an idea-generating culture are often the missing links to sustainable, long-term growth for any company. Unfortunately, most companies miss the mark by a long shot. This programs help any decision maker find the way to create the missing links.
What is Engagement
Why engage, involve, motivate employees
Push vs Pull Strategies
The RESPECT Model for building employee engagement culture
Global Perspectives on Employee Engagement
Frequently Made Mistakes and how to prevent them
Identify the components of employee engagement strategy.
Design an employee engagement strategy.
Hoe to implement an employee engagement strategy
People Management (8 hours)
Course Features
Lectures

0

Quizzes

0

Duration

60 hours

Skill level

All levels

Language

ENG/AR

Students

0

Assessments

Yes