HR Diploma | People & Culture Diploma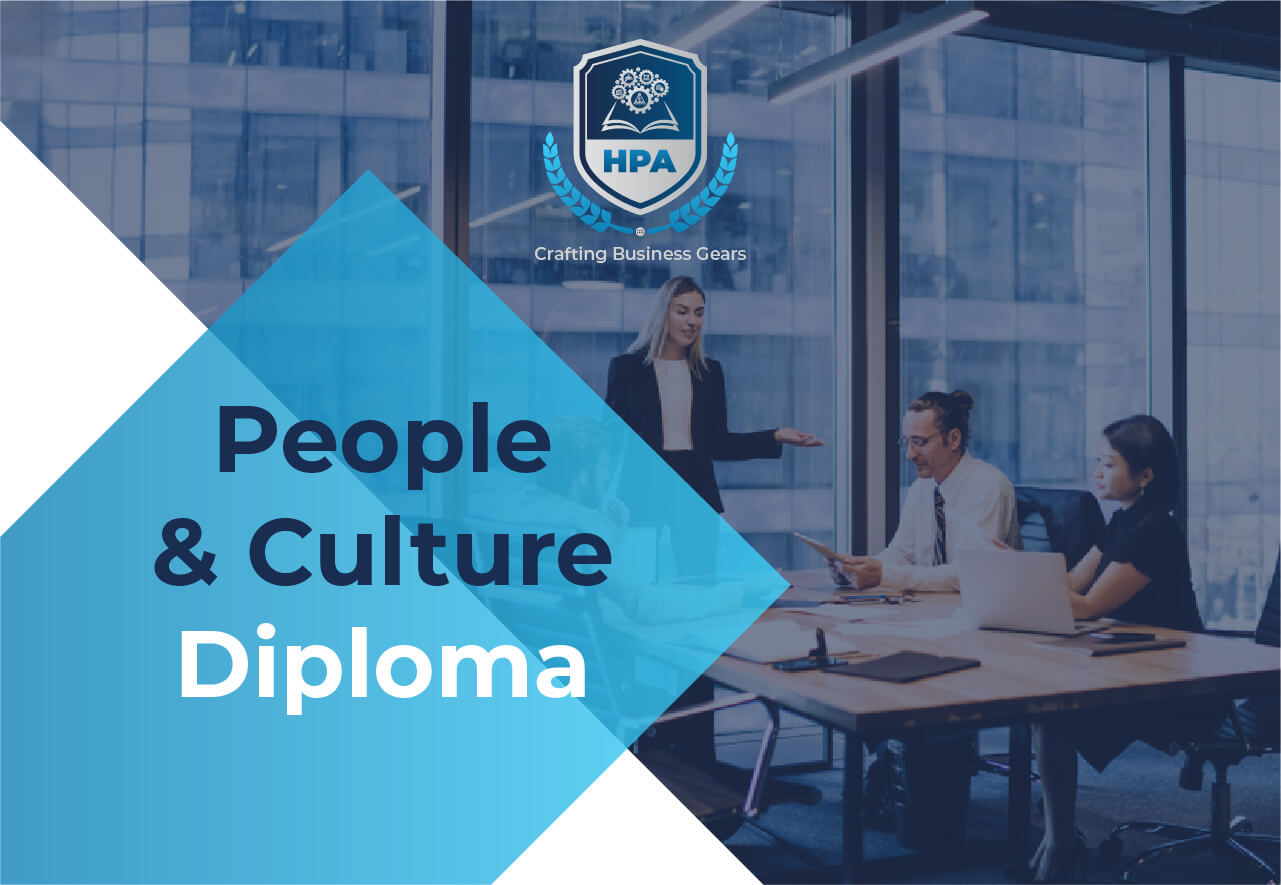 HR Diploma | People & Culture Diploma
What is HR Diploma?
A people and culture diploma or some called it HR Diploma is a new perception in human resources, it is a training program designed to help individuals and organizations understand and effectively manage the human resources aspects of their business. HR Diploma covers a wide range of topics related to people management, employee engagement, and organizational culture.
Why HR Diploma?
A company's culture develops around a set of shared values and attitudes, making it an effective and authentic a tool for business. culture should include already existing attributes that have been acknowledged across all levels of the organization.
People and Culture Diploma or the HR Diploma, also focuses on creating a positive and healthy organizational culture. This includes understanding the importance of workplace culture, enhancing employee engagement, metrics, technology, and issues pertaining to organizational culture.
Increased Employee Engagement
Improvements in Management, Employees, and Customers Communication
Be aware of the factors that impact an organization's culture.
Considerations in establishing and managing organizational culture.
Procedures to guarantee the success and continuity of an organization's culture.
Organizational culture-related concerns, measurements, technology, and communications
HRCI | Human Resource Certification Institute®
www.hrci.org
HRCI | Human Resource Certification Institute® is the leading organization for certifying human resources professionals. It offers world-class training and administers eight global certifications. HRCI is committed to helping professionals develop the skills and knowledge they need to drive business results.
1- HR Metrics
The importance of analyzing HR activities
The role that data analysis plays in HR activities
Analyzing recruitment metrics
Analyzing employee relations metrics
Analyzing compensation & benefits metrics
Examining learning and development and performance management
2- Excel & Power BI
Introduction to Self-Service BI Solutions
Creating a Power BI Dashboard
Power BI Data Source Using Excel
Shaping and Combining Data
Create Relationships & Calculations
Understanding the analytical process and the value of data for driving decisions.
Learn how to use Excel and Power BI to combine, process, clear, and analyze HR data
Select the right metrics, including KPIs and ROIs for HR tasks.
Learn the analytical techniques and tools for analyzing, interpreting, and presenting HR data so that HR decisions may be supported.
Learn how to use Power BI desktop to create interactive data visualization.
Building Organization Culture (4 hours)
What is culture
Schein's Culture Framework
Culture Terms
Culture Terms application
Handy Typology of Culture
Organizational charts best practices
Developing Organization Cultures
Explain culture and its effects.
Recognise Schein's three organisational culture levels.
Use cultural terminology.
Describe the 4 types of cultures organizations can follow.
Succession Planning (4 hours)
What is Succession Planning
Why is Succession Planning Important?
Succession Plan Process
Bench Strength strategy
Development grid
Understand succession planning concept.
Realize benefits of succession planning.
Apply process of Succession planning efficiently.
Strengthen your bench as part of your succession planning.
Implement the Development grid within your company.
History and Development of ISO 30414
Human Capital Reporting Guidelines and Risk
The ISO 30414 lists 11 specific areas for reporting on human capital.
How to figure out the 58 HR Metrics for the 11 areas implied in ISO 30414
Having practical experience in the creation of HR Top Management Reports.
measuring the 58 measures for large organisations and the 32 metrics for small to medium-sized businesses.
Describe the usage of the ISO 30414 standard as a tool for HR audits.
Employee Engagement (20 hours)
What is Engagement
Why engage, involve, motivate employees
Push vs Pull Strategies
Building a culture of employee involvement with the RESPECT Model
Global Perspectives on Employee Engagement
Mistakes that are frequently made and how to avoid them
List the elements of a strategy for employee engagement.
Design an employee engagement strategy.
creating an employee engagement strategy
People Management (8 hours)
What is people management.
Thinking of yourself as a manager
How do you find the best people?
How do you develop your team?
How do you manage performance?
How do you maintain a healthy workforce?
Identify what is people management
Discover the importance of people management
Learn people management tactics to manage the workforce
Talent Acquisition Specialist, HR Specialist, HR Generalist, HR Supervisor, HR Manager, HR Data Analyst, HR Business Partners
Course Features
Lectures

0

Quizzes

0

Duration

60 hours

Skill level

All levels

Language

ENG/AR

Students

0

Assessments

Yes