7 supply Chain Challenges in 2023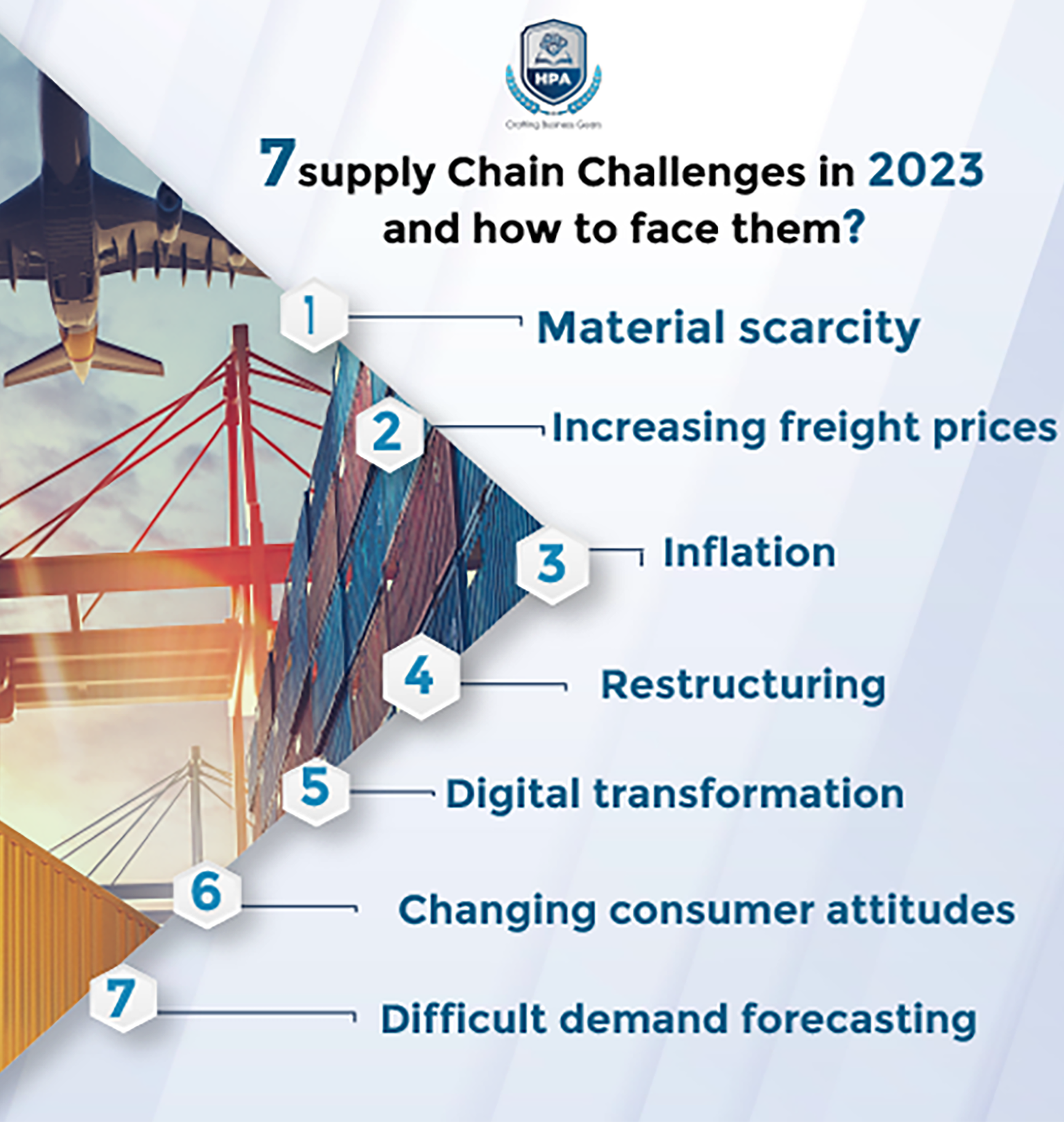 1-
    

Material scarcity:

Due to a sudden increase in consumer demand unlike anything else, there has been worry about insufficient inputs ever since the pandemic started. Even now, with the supply of many parts and materials being restricted, retailers and suppliers are having difficulty meeting this demand.

We have heard from a variety of growth stage companies in our network about everything from furniture manufacturers dealing with foam shortages to bike manufacturers losing payment terms due to component suppliers having reached their maximum capacity.

In reality, the Institute for Supply Management (ISM) recently conducted a survey that found "record-long lead times, widespread shortages of critical basic materials, rising commodities prices, and difficulties in transporting products across industries."
2-
    

Increasing freight prices

Contrary to early predictions, container shipping has become significantly more necessary throughout the pandemic. Global lockdown measures have led to a spike in online sales, which has increased demand for imported raw materials and manufactured consumer products. (a large percentage of which are moved in shipping containers).

And because this demand was so much higher than expected, there was a record-breaking shortage of empty or available containers as well as inadequate transportation capacity to meet it.

This shortage has resulted in a sharp increase in price, as it frequently does. Freight costs from China to the West Coast have increased by a staggering 240% in the past year alone.
3-
    

Difficult demand forecasting:

In the midst of a worldwide pandemic, demand forecasting has raised the bar for supply chain management at many businesses. For a large number of retailers and providers of consumer goods/services, the start of COVID-19 effectively shattered the forecasts, leaving them without a guide as to how much inventory to stock or make at any given moment.

Therefore, the difficulty has come from attempting to improve customer demand predictions while, in many cases, having to depend on intuition rather than data-driven research. Supply chain managers are urged in this scenario to set aside bias, seek out new data sets for forecast models, and continuously hone their findings for the highest degree of accuracy.
4-
    

Inflation:

There is a good chance that 2023 will be remembered as the year of inflation, even though it is too soon to tell for sure. Although the United States has been the subject of much discussion regarding inflation, quite a few other nations are currently experiencing the greatest levels of inflation in many years.

Businesses need to be ready for cost increases related to the acquisition of raw materials, finished goods, and more as this time of inflation continues. As a result of these rising costs, your product-based business may experience excess or surplus inventory, rising storage costs, smaller margins, and decreased income.

With that in mind, the task is to accept inflation as a fact while making an effort to lessen its effects.
5-
    

Changing consumer attitudes:

The pandemic has also significantly altered consumer attitudes and behaviors, lowering the bar for delivery times and increasing the standards for a satisfying customer experience, for example.

The difficulty lies in having a flexible supply chain that can use automation to maximize fulfillment and easily meet increased demand. Inventory management tools and multichannel order fulfillment services are two great examples of this supply chain flexibility.

"The epidemic increased e-commerce demand to a record level. Even though an increase in order volume was positive for retailers, our customers' primary concerns were new infrastructure requirements and supply chain disruptions. Relationship management with clients was one of our main strategic insights
6-
    

Digital transformation:

Digital transformation and IoT can be a mixed blessing for supply chain processes. Having said that, a number of technologies, such as artificial intelligence, drones and robots, electric vehicles, and on-demand delivery, have the potential to improve how we handle the conventional supply chain.

The difficulty comes in implementing these systems/services across a company's current supply chain operations, even though their long-term goal is to make ecommerce processes more efficient and cost-effective.

Implementing these technologies requires time and organizational realignment, especially when dealing with numerous warehouses or Omni channel selling. However, if supply networks want to remain competitive, they must constantly change.
7-
    

Restructuring: 

There is no denying that restructuring is having a significant impact on contemporary retail companies. This procedure may involve reshoring, switching vendors, or signing agreements with all new carriers, among other options. The difficulty with restructuring is determining when a change is necessary and how to implement it as smoothly as feasible.

For instance, switching suppliers must be meticulously planned out to prevent inventory shortages during the transition. In order to avoid a stockout (and lost sales) should demand increase while you're awaiting replenishment or for the contracts to be finalized, you will need to maintain a healthy quantity of safety stock on hand.
How to face these challenges?
As you can see, the pandemic has brought about some particular supply chain difficulties that online merchants are still working to overcome on a daily basis. The good news is that there are numerous approaches to avert serious problems and never again run out of merchandise.
Although there isn't a single, universal strategy for supply chain planning, combining a few various approaches can result in thorough and comprehensive results.
1-
    

Maintain cash in your company

Protect your company by having easy access to money. After all, having cash on hand can frequently mean the difference between having enough stock to satisfy demand and running out.
2-
    

Add more purchasing variety to your supply chain plan.

Broaden your variety of sourcing, perhaps geographically, to increase choice and abundance within your supply chain. Building numerous supplier relationships makes it simpler to be more adaptable and take advantage of a market that is constantly changing. (i.e. during a prolonged pandemic that alters the entire global economy).

A brand's success is frequently attributed to its ability to easily find goods and materials while keeping profits, expanding its customer base, and fostering innovation.
3-
    

Use a freight forwarder

Managing and tracking the shipment of your products can be made easier by collaborating with one or more freight forwarders. While freight forwarding businesses are in charge of getting goods from point A to point B, they can also organize the whole process for shippers and bargain for the best deal or quickest path.

Working with a freight forwarder gives retailers access to their extensive supply chain expertise as well as their ability to respond quickly to unforeseen obstacles. (such as delayed goods or rerouted services). Additionally, by combining the shipments of lesser retailers, freight forwarders are able to engage in large-scale negotiations.
4-
    

more accurate demand projections

Using automations to compute these metrics for you is always the best method to enhance forecasting. To avoid stockouts or inventory shortages, e-commerce sellers are constantly attempting to strike an equilibrium between their inventory levels, warehousing expenses, and customer demand.
5-
    

Using cash on hand

      Forecasting tools, and automated inventory notifications, retailers can confidently restock based on expected product demand or previous sales. Prioritizing forecasting can also simplify inventory counts and cut back on unnecessary overhead costs.
6-
    

Stay tenacious

The most successful retailers are those who maintain their resiliency in the face of supply chain difficulties. Your business will be better able to respond to unforeseen events and make any required strategic pivots if you maintain flexibility. This could entail developing more effective answers for challenging issues relating to your inventory, technology, marketing, and other areas.

To identify which goods should be bundled, discounted, or perhaps just promoted, for instance, you can look at your inventory levels. By doing this, you can almost instantly improve your cash flow and reduce the loss of sales due to inventory that is out of stock.
7-
    

Invest in Ai and Technology

In the years to come, it will be more crucial than ever for today's supply chain leaders to embrace a holistic viewpoint with AI and analytics. Your company can and ought to take advantage of technology like Skubana to get a solid handle on everything from customer relationship management to increasing supply chain visibility.

Make sure you have flexible access to capital once you have artificial intelligence and analytics to guide inventory building so that you can place orders as needed and, eventually, satisfy customer demand.